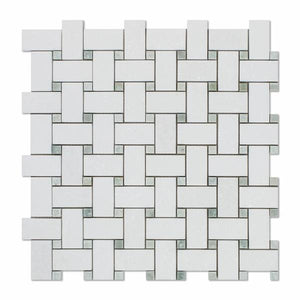 FREE SAMPLE SHIPPING
Genuine Premium Thassos Marble - Add some flare to your backsplash with our Thassos White marble Basketweave with green dots .
Size: 12"x12"
Sold per square foot. Minimum order 50 pieces (We accept 1 item sample order)
Samples: You will receive small cut out swatch of a single item. Sizes will vary but mostly will consist of about 1/4 of an item. Samples are shipped using USPS. We do not accept returns on sample orders. 
Free Pick Up
For Alaska, Hawaii, Caribbean and internation orders please contact our office for a shipping quote.
Phone: (562) 756-3044
Fax: (714) 535-8454
Natural Stone has Variations. Please read our Natural Stone Disclaimer before placing your order
Small shipping rates for samples covers packaging costs.