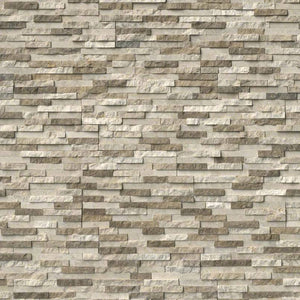 Colorado Canyon Pencil Stacked Stone panels are crafted from fine marble. The warm beiges contrast beautifully with the soft creams, and hints of rust. Use to create stunning architectural features including fireplaces, accent walls, retaining walls, and to clad structures and support beams. Also suitable for interior projects including backsplashes and accent walls. Matching corners are available to finish off projects.
NOTE: Natural Stone Veneer Panels made from slate may have iron deposits that can rust and/or effloresce when exposed to moisture. Recommended for interior application only.
Samples: You will receive small cut out swatch of a single item. Sizes will vary but mostly will consist of about 1/4 of an item. Samples are shipped using USPS. We do not accept returns on sample orders. 
Free Pick Up
For Alaska, Hawaii, Caribbean and international orders please contact our office for a shipping quote.
Phone: (562) 756-3044
Fax: (714) 535-8454
Natural Stone has Variations. Please read our Natural Stone Disclaimer before placing your order